CarboProbe IP-E for heat treatment (%C)
Description                     
The CarboPorbe IP-E was developed for very difficult working conditions. It is based on a gas-tight measuring cell totally made of ZrO2 This probe measures the oxygen concentration and offers excellent accuracy for the measurement of carbon potential (%C) and temperature (°C).
Patented design for more security in your worshop!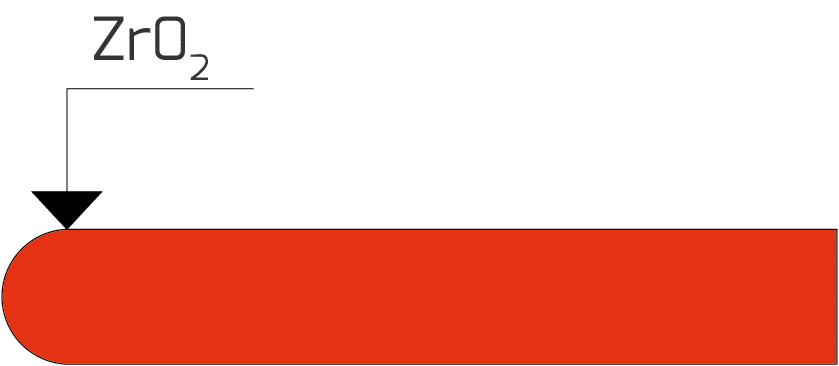 TECHNICAL CHARACTERISTICS
TECHNICAL CHARACTERISTICS
Output
0 to 1200 mV
Readout impedance

This probe should be used with controlling, recording and indicating instruments having input impedance of 8 megohms or higher

Response time

Less than 1 second

Thermocouple
Types K, S, N or without
Operating temperature
De 600°C (1100°F) à 1150°C (2100°F)
Mechanical shock

Resists mild mechanical shock. Handle carefully

Available lengths
500mm (19.7"), 650mm (25.6"), 750mm (29.5"), 850mm (33.5"), 1000mm (39.4);
Reference air

Uncontaminated dry air at maximum rate of 1-6 l/h

Cleaning air

Uncontaminated dry air at maximum rate of 300 l/h

External diameter
25 mm
CARBOPROBE IP-E KEY FEATURES
Patented design for more security in your working area
Measuring cell totally made of ZrO2
Designed for difficult working condition

Ideal for use in carburizing, carbonitriding, neutral hardening and gas generator applications.

Every probe is 100% tested with certification, certificates are enclosed with each probe.

High reliability of the probe thanks to a simple and effective concept

Interchangeable with all oxygen probes or carbon sensors.

Reduces stress on the 4-bore tube, reducing incidents of breakages.

Can also be supplied with an outer protective ceramic
Would you like to receive more information ?